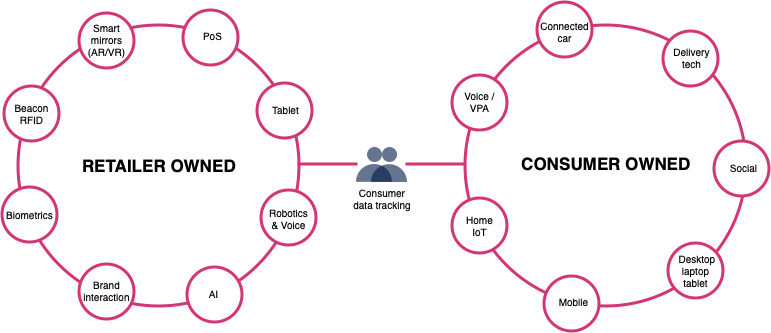 These technologies each offer some unique and interesting use cases and once a retailer has defined its consumer experience and needs across the buying stages, it should consider which technologies are best placed to help deliver its future vision.
1 - Investigate
Understand the brand: In-store tablet interactive experience | Marketing/advertising to email, website, TV | Tablet/screen — In-store branded experience (history, interactive, play etc)
Search & compare: Voice — recommendation | Mobile — photo recognition & recommendation | Ecommerce | Social | Mobile — in-store navigation & information | Mobile/tablet/Point of Sale — product information | AI — recommendations | Smart mirror — dressing room store staff communication & stock check | AI store layout improvement | Beacon/RFID — in-store consumer tracking & notifications | Robotic inventory management | Robotic shop assistant
Receive recommendations: Social media tracking (preferences, views & likes) | Voice recommendations | Mobile push notifications | AI smart mirror
Receive offers: Mobile near-store push notifications
2 - Decision
Select & tailor product: Mobile/tablet/desktop — product configuration, personalisation and select appropriate size | Smart mirror product selection | Point of Sale — stock check | Visualise product
Visualise product: AR smart mirror — view virtual product fit (digital dressing room) | VR room — product environment | Mobile AR/VR — see product in home environment, in own mirror, layered onto photo
Repeat purchase convenience items: Voice recommendations | Home IoT devices
3 - Purchase
Pay for product: Biometric recognition for invisible payment | Mobile payment (+ product scanning) | Point of Sale
Subscription: For repeat goods setup
4 - Delivery
Track order: Voice confirmation and tracking | Standard ecommerce confirmation
Receive order: Drone delivery | Click & collect | Smart control of home entrance
5 - Loyalty & rewards
Collect rewards points: Credit card linked to rewards profile | QR scanning to track purchases | central app to show loyalty barcode
So what next?

The final question is "How do I define my future retail strategy and what technologies are relevant to my consumers". At E2X we work closely with our clients to define their digital strategy and help execute that with our design team and our partners 20 years experience in omni-channel retail technologies. In my next article I will cover how to define your future retail vision and important considerations, but if you're interesting in discussing the topic further please do get in touch.
References

In preparing this report we have drawn useful insights from third parties who've conducted wide industry quantitive and qualitative research. We have absorbed this and provide our own thoughts and viewpoint.